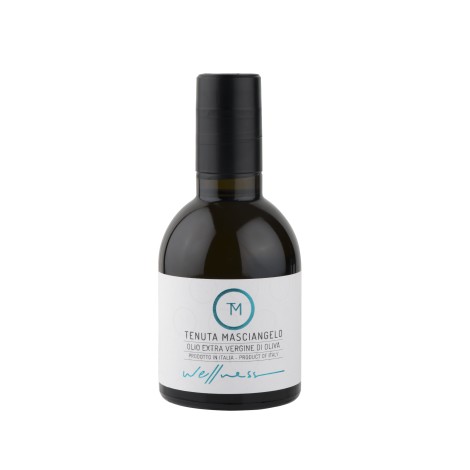  
Oil Wellness
€17.62
€17.62Tax included %
Tax included
Delivery: 1 to 3 weeks
Olive oil, in particular "extra virgin olive oil", thanks to its composition characterized by monounsaturated fatty acids and high amounts of vitamin E, polyphenols and natural antioxidants, is the optimal source of energy for sportsmen and not.
EXTRA VIRGIN OLIVE OIL 
100% PRODUCT OF ITALY - COLD EXTRACTION
Superior category olive oil obtained directly from Italian olives and solely by mechanical means. 
Produced in Italy from olives grown in Abruzzo.
Produced in 2021/2022
To be consumed preferably by 30/04/2023
Store the bottle tightly closed in a cool, dry place away from light and heat sources. Do not disperse the container in the environment after use.
NUTRITIONAL FACTS PER 100 ML 
Energy 
3389 kJ
824 kcal
Fats 91,6 g
of which
SATURATES FATTY ACIDS 14 g
CARBOHYDRATES 0 g
of which
SUGAR 0 g
PROTEINS 0 g
SALT 0 g
CULTIVAR:
Frantoio Caninese , Gentile Chieti , Leccino Bella di Cerignola
APPEARANCE:
Intense green color
AROMA:
Herbaceous fruity of medium intensity with notes of artichoke, green almond, apple.
TASTE:
Green fruity, herbaceous with notes of green almond, artichoke, green apple. Good presence of bitter and spicy in perfect harmony. Harmonious and pleasant flavor of grass and green apple.
HARVEST TIME:
It generally takes place in mid-October, waiting for the best time based on the climatic conditions of the year. We make it exclusively with care and attention. The harvested olives are immediately passed over, separated from the leaves and selected to eliminate those not considered suitable.
CRUSHING:
Is a very important process, on which the quality of the Extra-virgin olive oil depends. Olives must be crushed after the harvesting. In this way, the taste of the olive is preserved. The result of this process is a balanced and harmonious oil, keeping the temperature of the olive paste below 27°c (cold extraction). The pressing must be carried out within 35-40 minutes.
STORAGE:
Wellness extra-virgin olive oil rests inside glass carboys, away from light, in the places suitable for the settling.
BOTTLE:
Dark, elegant and originally designed. It's available
500Ml, 250ml and "travel" da 100ml.
Related items
3 other products in the same category:
Customers who bought this product also bought: