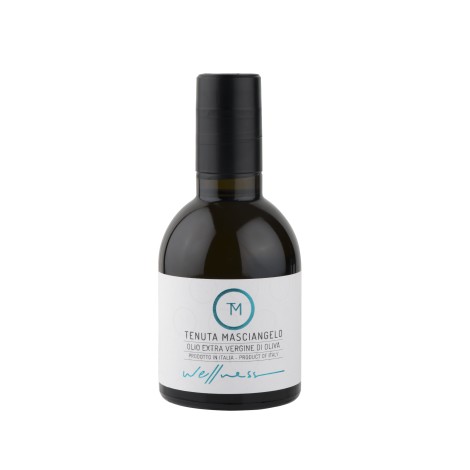  
Oil Wellness
€4.62
€4.62Tax included %
Tax included
Delivery: 1 to 3 weeks
Olive oil, in particular "extra virgin olive oil", thanks to its composition characterized by monounsaturated fatty acids and high amounts of vitamin E, polyphenols and natural antioxidants, is the optimal source of energy for sportsmen and not.
CULTIVAR:
Leccino 40%, Gentile Chieti 40%, Frantoio 20%
APPEARANCE:
Bright green color with yellow gold.
AROMA:
Fruity, medium intensity with grassy notes of artichoke
And green almond.
TASTE:
Green fruity, herbaceous with notes of green almond
And artichoke. A well-balanced spicy taste with a mildly
Bitter aftertaste of medium persistence. A harmonious
And herbaceous flavour with notes of green almond.
HARVEST TIME:
The olives are picked between october and november,
When the weather is good. The olives are harvested with
Utmost care directly from the trees and then checked by
Hand. They are separated from the leaves and selected
One by one, in order to remove the damaged olives.
CRUSHING:
Is a very important process, on which the quality of the
Extra-virgin olive oil depends. Olives must be crushed
After the harvesting. In this way, the taste of the olive is
Preserved. The result of this process is a balanced and
Harmonious oil, keeping the temperature of the olive
Paste below 27°c (cold extraction). The pressing must
Be carried out within 35-40 minutes.
STORAGE:
Wellness extra-virgin olive oil rests inside glass carboys,
Away from light, in the places suitable for the settling.
BOTTLE:
Dark, elegant and originally designed. It's available
500Ml, 250ml and "travel" da 100ml.
Related items
3 other products in the same category:
Customers who bought this product also bought: